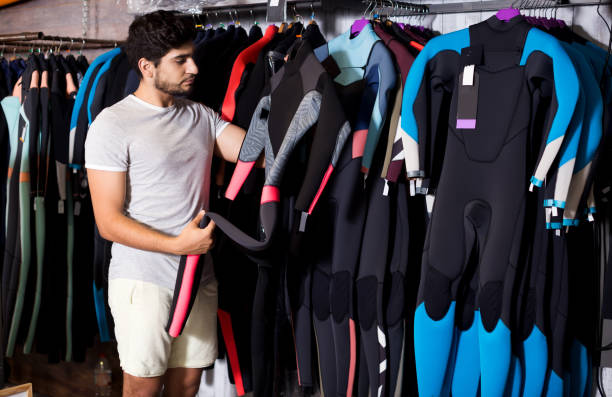 Surfing is an excellent way to connect with the gorgeous ocean and the nature of New Zealand. When you surf, you almost become one with the sea, and you can feel the world's strength and beauty. Many surfers feel a connection to nature because of this, so many of us want to find great eco-conscious wetsuits to do our part to be good to the world.
But how exactly can a wetsuit be eco-conscious, and where can you find a fantastic one for yourself?
Where You Can Get Amazing Eco-Conscious Suits
By making eco-friendly choices, like choosing wetsuits and goods made from innovative designs and recycled materials, you're helping us all move towards a better and greener future.
At C-Skins, we do our absolute best to provide New Zealanders with wetsuits that are created with the world (and your satisfaction!) in mind. We strongly value excellent eco-development.
Our wetsuits are created in ways that make good use of recycled materials. We know that every little bit counts, and we want you to feel amazing about your choices - and we do all of this without sacrificing the quality of the eco-conscious wetsuits we provide.
A handful of things we do are:
We Use Limestone Instead Of Petrochemicals. Instead of using petrochemicals in our neoprene for our wetsuits, we use earth-mined limestone. This means that each wetsuit we create produces 24% less carbon dioxide during the production process. Those numbers really add up!
We Use Eco Carbon Black. Carbon black is one of the main ingredients of neoprene, and the carbon black our wetsuits use is made from scrap rubber tires. This reduces CO2 emissions by 200g per suit.
We Recycle As Much Neoprene As We Can. Instead of throwing neoprene away and letting it fill up landfills, we reuse and recycle as much as we can. We take this would-be waste and turn it into fantastic products that you can use and enjoy during your adventures.
We Use Dope-Dyed Yarn. When creating our eco-conscious wetsuits, we use dope-dyed yarn. Dope dyeing is a process that saves water, reduces water pollution and cuts energy consumption. This results in an astounding 104 litres of water saved and a 26% carbon footprint reduction per kg of fabric!
We Use Recycled Polyester. Did you know that plastic bottles can be turned into polyester yarn? 45 plastic bottles can be used to create enough fabric for one entire wetsuit.
We Use Water-Based Glue. We can eliminate hazardous volatile organic compounds by using water-based glue developed from solvent-based laminating glue.
We Use Eco-Friendly Solar Energy. We know the power of sustainable energy, so our production facilities use green energy from solar panels to create our already eco-conscious wetsuits and products. Our passionate team knows that we should all be doing every single thing we can to do right for the world.
How To Choose The Right Wetsuit For You
Isn't it amazing? You can make smart, green choices while choosing a top-tier wetsuit at the same time! We do our best to ensure that all of our products are high-quality as well as eco-friendly.
However, you still have to find a wetsuit that suits you. Wetsuits are a smart choice for any surfer because they can keep you warm when the water's chilly, protect your skin from the sun and give you a layer of protection from ocean life and debris.
But you won't be able to enjoy your wetsuit if it's not right for your body and your style. Therefore, think about the following when you're picking out your eco-conscious wetsuit:
Find A Suit That's The Right Size For You. Of course, always choose a wetsuit that's the right size for you. You don't want a wetsuit that's too big because it won't fit right, and a wetsuit that's too small will just be restrictive and uncomfortable.
Try Your Suit On. If you can, visit your seller's store to try the suit on for yourself. Stretch and move while you do to check your mobility.
Check The Specifications Of Your Suit. Always read the specifications of your selected suit. Does it have any special features? What's it made of? How thick is it? Know everything you need to know before you buy.
Choose A Look You Love. Aesthetics aren't everything, but that doesn't mean they don't matter. Every surfer has their own unique look. Choose a wetsuit that fits your body and your personal style.
Come And Find Your Favourite New Wetsuit Today
Make good choices and find an eco-conscious wetsuit that's perfect for you by visiting us at C-Skins. You can browse our products online, or you can visit one of our New Zealand retailers.
Would you like some assistance? We'd be happy to help! You can reach our team at 021 028 36002 if you'd like to chat with us about our goods or what we do.
C-Skins is here to provide you with fantastic new wetsuits and accessories that make you look and feel incredible!