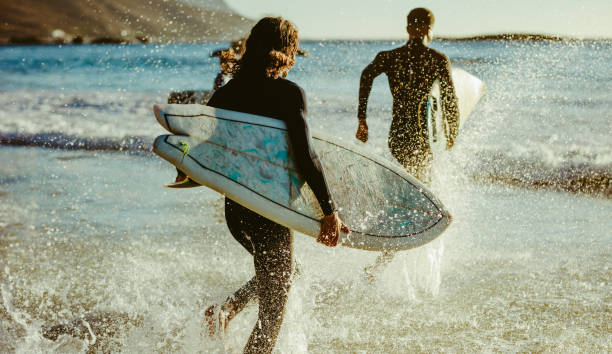 If you're a surfer in NZ, then you may have passed by a wetsuit sale before and thought, 'Should I pick one up for myself?' It doesn't matter what level of surfer you are, or if you're strictly a casual surfer or if you plan on going pro one day, you can always benefit from a well-made wetsuit.

That's because these suits are designed to improve your surfing experience like never before. Their sleek and protective design allows you to ride the waves in style while protecting yourself.
Why You Should Wear A Wetsuit When You Surf
Whether you're a beginner or a seasoned pro, wearing a wetsuit is a very smart idea for surfing (or diving) in New Zealand for many reasons.
Here are just a few of the many benefits of wearing a wetsuit:
Warmth. As you look at the wetsuits on sale in NZ, you'll want to pay attention to thickness. This is because the thickness of your suit will affect how warm it is.
Warmth is one of the first perks of wearing a wetsuit that you'll notice. Their sturdy, durable material can help you stay warm and comfy while you surf.

Why is it important for surfers to stay warm, anyway? Imagine trying to surf in chilly water - you'll probably want to get out pretty soon! Being too cold can hinder your performance and your comfort. A nice, thick wetsuit can make it so that you can have fun surfing for a long time, even when it's colder.

Buoyancy. Did you know that a wetsuit can help you float better? This extra buoyancy can make it easier to paddle, catch waves and position yourself in the water.

So, finding a good NZ wetsuit on sale is a fantastic choice for beginners who might have some trouble positioning themselves or performing well in the water. Along with all of the other advantages on this list, a wetsuit can help beginners handle themselves better in the water while they build up their strength and skills.

Protection. Many New Zealanders have a strong connection to the ocean. The sea is beautiful and full of wonder, and it drives us to explore it and connect with it through activities like surfing. However, this comes with a downside - the ocean may be full of beauty, but it's also full of potential danger.

That's part of the reason why wearing a wetsuit is a must - they offer you an extra layer of protection that regular swimwear or clothing cannot.

A wetsuit can protect your skin from dangers like hard-to-see jellyfish or floating ocean debris. Even if a jellyfish does touch you, chances are its stingers won't get through your wetsuit. It can also protect your skin from getting a nasty sunburn.

Although, it's important to note that a wetsuit isn't going to cover your entire body. Make sure you check out any accessories they have at the NZ wetsuit sale so you can protect the rest of your body.

For instance, you can get sturdy boots to protect your feet from sharp rocks and other pointy objects on the ocean floor.
A Few Quick Tips For Finding Your Perfect Wetsuit
A key thing to remember about these wetsuit benefits is that you'll only really experience all of them if you find the right wetsuit for you. Wetsuits come in different designs and sizes, so not all of them will be a good fit for you.

So, be sure you keep these in mind when you look at an NZ wetsuit sale:


Thickness. The thickness of your wetsuit will affect how protective and warm it is. Think about how warm you want your wetsuit to be. The thicker a wetsuit is, the more it'll affect your mobility, so be sure you find a good balance of thickness to mobility that suits your style.
Fit. Your wetsuit should fit snugly, but it should never feel too tight, and it certainly should never feel like it's fully restricting your movement. A suit that's too tight can be uncomfortable and make it hard to move and perform well on the water, but a wetsuit that's too loose won't provide adequate insulation or protection. Before you purchase anything, you should look at size charts and make sure your chosen wetsuit is right for your body.
Where You Can Go For High-Quality Wetsuits Made With Sustainable Practices
Come to C-Skins if you're searching for amazing wetsuits and accessories. We have plenty of wetsuits on sale for NZ surfers of all kinds, from men to women to children. We have many wetsuits from amazing lines, like our Session men's wetsuits.

Our team strongly values the ocean and the world, and we're dedicated to supporting sustainable practices that help us all move towards a better future. We encourage you to read about what kinds of eco-development practices we follow if you love the ocean as much as we do. You can find helpful information about it on our website here.

Do you have any questions for us? You can reach our team on 021 028 36002 if you'd like to talk.

Experience the New Zealand ocean in a new way with incredible C-Skins wetsuits!